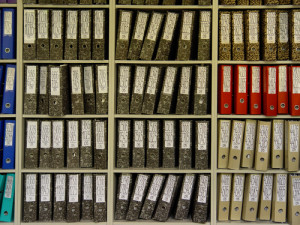 In our prior post we spoke about what to do with your artwork when your heirs are not the best options. Before we get in to the pros and cons of each alternative, we want to talk about one of the most important steps anyone should take regardless of whether they plan on transferring their artwork now or in the future. That step is to get organized!! Cataloging and indexing your collection ensures that all pieces are accounted for and can easily be recognized and found by you or others.
So how do you get started? First title and describe each item in the collection recording any important information regarding the particular piece. Add one or more images of each piece to the catalog as needed to identify the work. You should also keep a record as to where the piece is currently located. This is especially important because works may be out on consignment. Your heirs, executor, or trustee may not know of these consignments. Tell them who has the works and give them a contact name so they can find and track down the work when the time comes to transfer the artwork. You should always make sure your consignment is in writing and keep that paperwork available for future reference. In addition, gather the certificate of authenticity or a record of transaction, such as an invoice. You want to present the best trail of ownership possible for each piece to prove provenance. This will also help in the appraisal process to get the best pricing.
There are several companies that provide their own catalog portals. You can simply buy a subscription and access their platforms. This has the advantage of being a turnkey solution with relative ease of use. The downside, however, is that if your subscription runs out, you will not have access to the catalog to make changes or add new pieces of artwork.
Another option is to create your own catalog by taking pictures of your collection and scanning those images into your computer system. You will also need to keep separate files giving the descriptions and provenance for each of these pieces as well as recording the location and contact information for work out on consignment.
Whatever method you choose is up to you. Just know that being organized and keeping track of your artwork will ensure both you and your heirs a roadmap for future transfers.
Follow our blog for more tips on transferring your art collection.